WSL Australian Leg 2022
Events
WSL is back in Australia for the 2022 Championship Tour and Challenger Series events!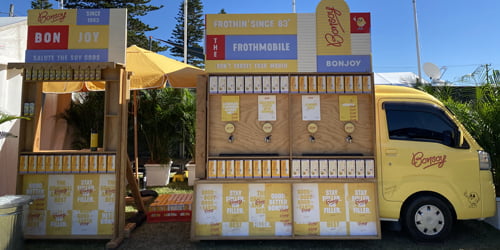 On April 10, 2022 the WSL Australian leg kicks off. We are the official Plant-based beverage brand ready to continue and activate across the four marquee Australian events in Bells Beach, Margaret River, Gold Coast and Manly Beach as well as continue our product and brand integration with WSL's global live broadcast and the sale of product and merchandise at each Australian CS and CT stop.
We're most excited by the the Bonsoy Board Caddy Program which will be implemented at the Rip Curl Pro Bells Beach, the first CT event on the Australian leg. The program will see a local youngster, teamed up with one of their heroes to carry and care for their back up board whilst they compete at the famous Bells Bowl.

Save the dates and don't forget to tune in

RIP CURL PRO BELLS BEACH
10 – 20 APRIL
Bells Beach, Victoria
MARGARET RIVER PRO
24 – 4 MAY
Bells Beach, Victoria
BOOST MOBILE GOLD COAST PRO
7 – 15 MAY
Gold Coast, Queensland
SYDNEY SURF PRO
17 – 24 May
Manly, New South Wales
Catch the world's best surfers LIVE at the Rip Curl Pro Bells Beach on worldsurfleague.com or the WSL mobile app.
Read more about the extension of our partnership with WSL!