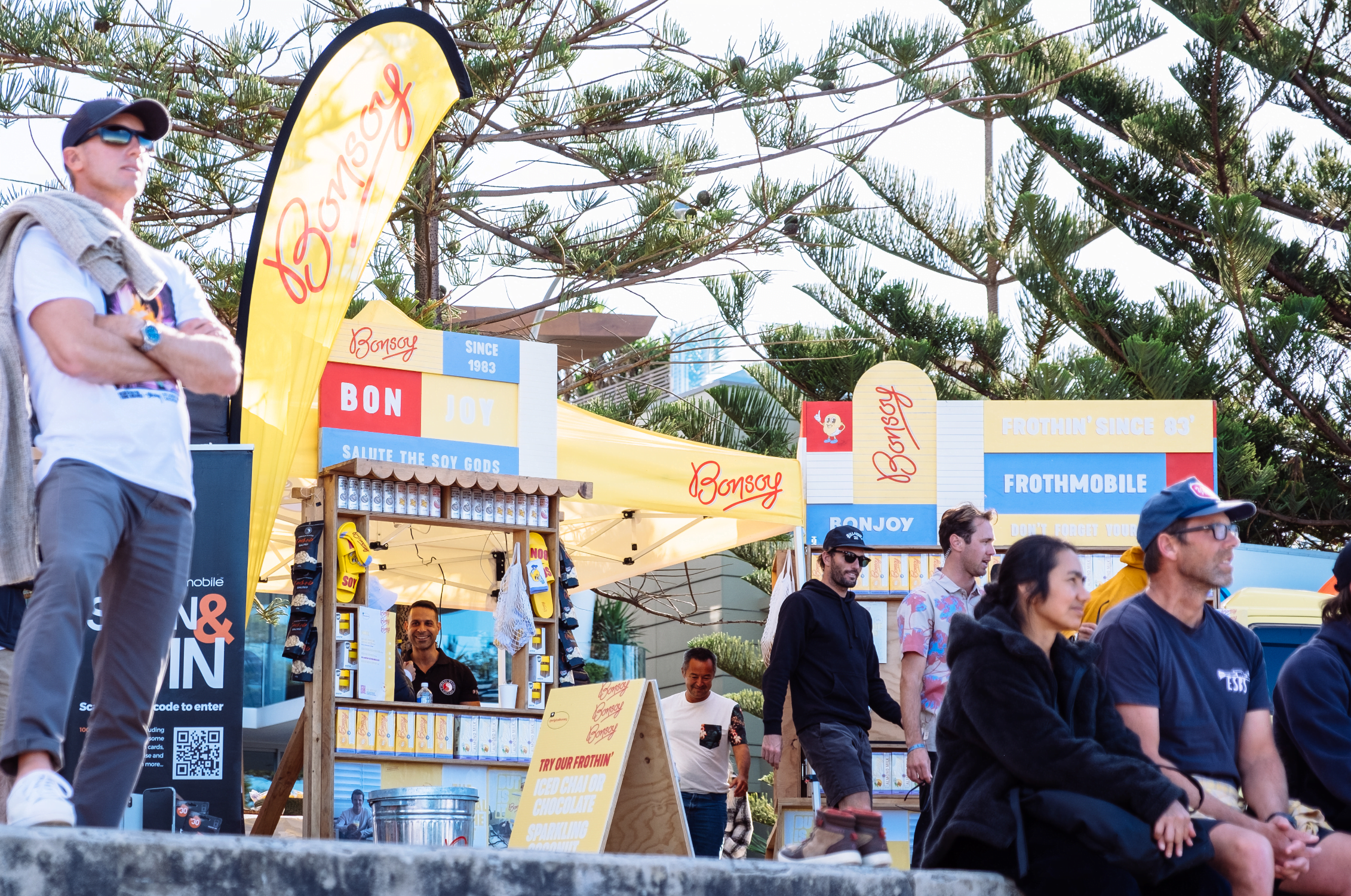 Bonsoy and World Surf League 'Frothin' On Expanded Two-Year Partnership
Events
Bonsoy Become Presenting Partner for Rip Curl Pro Bells Beach in The Iconic Event's 60th Year — Two Australian Challenger Series Events to Include Bonsoy Athlete Area & Board Caddy Program in 2023.
COOLANGATTA, Queensland, Australia (Friday, 20 January 2023) – World Surf League is excited to announce it will be expanding its partnership with Spiral Foods and plant based milk brand Bonsoy over the next two years ahead of the 2023 Australian leg of Championship Tour and Challenger Series events.
Already the Official Milk of the World Surf League, 2023 will see Bonsoy become the presenting partner of the iconic Rip Curl Pro Bells Beach Championship Tour event which will be celebrating its 60th anniversary, making it one of the highlights of this year's WSL season.
"The Rip Curl Pro Bells Beach Presented by Bonsoy is going to be one of the most coveted events on the 2023 CT calendar and we think it's incredible Bonsoy are upping their commitment to get behind what is sure to be an historical event," said WSL APAC President Andrew Stark. "The strength of this partnership is evident in its growth, year on year and in 2023, Bonsoy are going to be across WSL Australian global events more than ever. We'd like to thank Spiral Foods for the ongoing support and for strengthening our incredible partnership."
As well as their presenting and category partnerships at the Championship Tour level, both Australian Challenger Series events will incorporate the "Bonsoy Athlete Area" on the Gold Coast and in North Narrabeen. In this area, athletes will be treated too healthy and nutritious Bonsoy and Spiral Food products whilst they wind down or prepare for their next heat.
"We're thrilled to continue our partnership with WSL and this year to become the presenting partner at the landmark event, the Rip Curl Pro Bells Beach. As 2023 sees Bonsoy turn 40, it's important for us to use this milestone to mark going forward supporting the surfing community that we believe in," said Marketing Director Raphaelle Wilson. "For us surfing is an all inclusive sport which aligns with who and what we are. To continue that connection is a natural fit for Bonsoy, surfers, beach lovers and beyond."
Adding to the expanded partnership will be the "Bonsoy Board Caddy" Program, which was implemented at the 2022 Rip Curl Pro Bells Beach, and will be expanded to include both Australian Challenger Series events on the Gold Coast and in North Narrabeen. The program will see a local youngster teamed up with one of their heroes to carry and care for their boards at all three locations.
In addition to elevating Bonsoy's onsite activation experience for fans across Australia with the sale of product and merchandise, they will continue their product and brand integration "Bonsoy Break" within WSL's global live broadcast. Bonsoy will also be provided with a custom broadcast segment at Bells.
For more information, please visit WorldSurfLeague.com.

https://www.worldsurfleague.com/posts/510641/bonsoy-and-world-surf-league-frothin-on-expanded-two-year-partnership